Litho Printing vs Screen Printing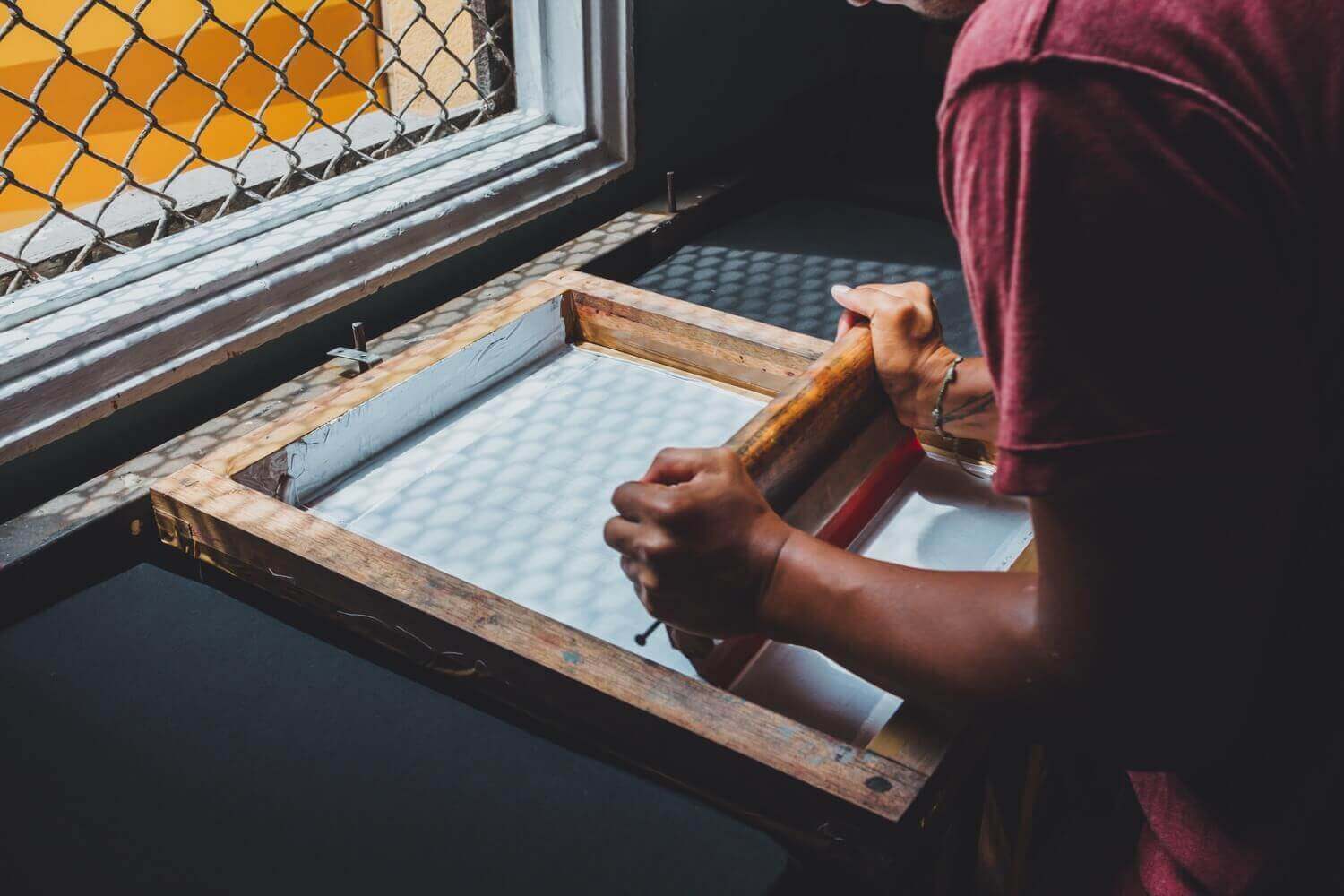 When it comes to creating materials that accurately represent you, your brand or your organisation, there are a number of ways in which you can get what you want. Whilst doing your research you may come across litho printing and screen printing, as well as digital printing.
Whilst both litho printing and screen printing both use similar techniques, there's a difference between the finish, and the materials they're best used for. In this article, we'll discover the definition of both printing processes, and what the advantages of each are.
What is litho printing?
Litho printing, or lithographic offset printing as it's more technically known, is a traditional printing process that involves the image of what needs to be printed being transferred to a metal plate, then onto a rubber blanket, and then applied to the printing material. What sets litho printing apart is the way that the ink is able to properly sink into the material, instead of simply drying on the top.
What are the benefits of litho printing?
There are many benefits to litho printing, such as:
Fantastic print quality
Litho printers are capable of producing printed products that feature high resolution, vibrant colours, and crisp, sharp detail.
Ideal for bigger print runs
The more you print, the cheaper litho printing works out, making it a very appealing and cost-effective option if you have a big print run to do.
Print consistency
Litho printing can be relied upon for creating identical copies, without discrepancies in the finish.
Special effects available
When you want to make an impact with your printed material, litho printing allows you to create special effects on select materials. These include embossing and metallic finishes, to help you stand out from the crowd.
How long does litho printing take?
Depending on the size of the print run, litho printing can take anywhere from 1 week to 2 or 3. It's best to talk to your printer for exact turnaround times on the print run you're planning to do.
What can you litho print on?
Litho printing is best used on paper products, though the weights of the stock can vary – it can include textured, coated or uncoated paper or card. This makes it an ideal printing process for brochures, flyers, business cards and even books.
How much does litho printing cost?
The cost of a litho print run depends on the size of the order, and the material on which it's being printed. It's best to seek a quote from professionals like us here at Action Press.
What is screen printing?
Screen printing is a printing process that sees a stencilled image be transferred onto the chosen material through a fine screen of mesh. Certain areas are made impermeable by the ink, which is what helps create the final image, by ensuring ink doesn't transfer onto the product.
Screen printing is a popular option for creating bold, vivid printed images on a variety of materials.
What are the benefits of screen printing?
Enduring designs
The inks that are used for screen printing tend to be thick, and the designs themselves blocky. This means that the designs can stand the test of time better than other printing processes, particularly on materials that get a lot of physical use, such as clothing.
Versatile for lots of materials
Far from being a printing process for paper only, screen printing is suitable for a variety of materials, from wood to plastic, and even metal!
Suitable for large orders
If you have lots of items that you want a bold design on, screen printing works well. Screens need to be made for every colour used in the design, so once that's done, you're good to go.
How long does screen printing take?
Due to the length of time it takes to set up the various screens required, particularly if there are a lot of colours involved, you can expect the screen printing process to take at least a couple of weeks if completed professionally.
What's the difference between litho printing and screen printing?
Litho printing is a quick, easy way to get paper products printed by professionals, whereas screen printing is best for bold designs where block shapes need to make an impact on materials such as cloth, wood and plastic.
Litho printing in Sussex
Here at Action Press, lithographic printing is a process that we specialise in, producing large volumes of printed materials for a variety of uses. From catalogues, brochures and business cards to posters and documents, our litho printing is ideal for large print runs where quality needs to be perfect.
Thanks to our years of experience and knowledgeable, friendly team, we're able to work with you in order to establish the best printing process to fit your needs. We'll provide you with a bespoke quote and accurate turnaround time to make sure you get a quality product on time and on budget.
Chat to us today if your Sussex business would benefit from litho printed products.