That is what we love to do every day. We care, we help, we advise, we teach, we warn, and we deliver.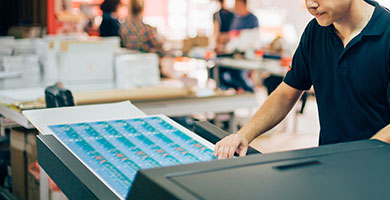 We work with you to understand your needs
With access to a wide range of papers, finishes, inks and equipment, we ensure a professional result that will hit the mark.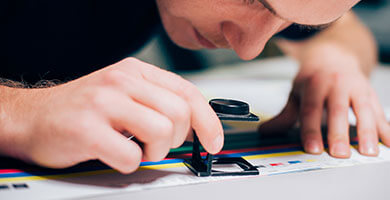 We're attentive, assertive, and care about your print
We're both caring and trustworthy so you can rely on us to check everything thoroughly from initial brief to final delivery.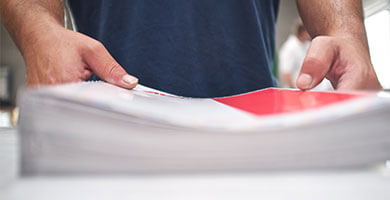 We offer our experience to achieve the best possible results
Our friendly and knowledgeable staff are dedicated to ensuring that you get the very best result every time.
As always - the service provided is excellent 🙂  Everyone is very helpful, courteous and efficient.
Just to let you know the cards have arrived and we are VVV pleased. Quality is A1.
I do not usually give people top marks for everything, but I cannot actually mark you down on any area!"
We appreciate the services you offer and the quality of your work. You are our only print supplier and first and last call. As soon as anything else is needed, I will… →
Very prompt service, with very helpful staff, competitive pricing, I will always contact you first for all my printing needs.
A MASSIVE thank you for the leaflets. Everyone admired them and I am so glad you were able to get them printed for today's large meeting with our Trustees and Governors. Everyone… →
I find dealing with Action Press really straight forward and pleasant; I see the high level of professionalism there and they do go an extra mile to make sure the job comes… →
I am, as ever, very impressed with all aspects of service from Action Press which incorporates these qualities: prompt and competitive quotes, good communication during ordering process, excellent quality print and speedy… →
Action Press has been an First Class company to work with. Quality and Professional.  My delivery came two days early and the catalogues arrived in Pristine condition – "just what the doctor… →
Just to let you know that I have already had great feedback on my brochure – folk think it's very professional and beautiful to look at. Again, thank you so much for… →
Always great to deal with-all staff treat you with respect and the customer service received is consistent
The chap who dealt with the design of our cards was exceptional. He went right out of his way to help us! Fantastic service.
Brilliant Service, delivered promptly & on time
Your quality of print has been the best and most consistent of the 3 companies we used to use. Hence I changed everything to you – a lot less hassle when things… →
Three members of your staff contacted me at the various stages of my order and each was perfectly presented and wholly consistent with each other. The service was faultless.
We always receive prompt, efficient and courteous service with an excellent product and competitive pricing - thank you.
I was very impressed with the quality, as always your company has done a stunning job!
Thank you very much. Every time a job is placed with Action Press I can sit back and relax knowing they always deliver great quality and on time.
I have worked with print companies for about 10 years and I would rate Action Press as one of, if not the best I have come across.
Action Press never fails to impress. The finish of the print is always great, and I can't fault the customer service at all. I now wouldn't go elsewhere for print, business and… →
The quality and presentation of the printing was far better than the previous company that we have used. We will be using Action Press again.
Very quick turn round times and quality is always excellent
We have been dealing with a number of average print companies and Action Press have exceeded them all.
I receive an A+ service which is why I continue to use Action. Work is always carried out to specification, fast, efficiently and of the highest quality. The team always try to… →
You did a grand job of turning the last large mailer round and working with the Royal Mail Door to Door team so you were a natural choice second time round!
Action Press have proved to be a robust and helpful addition to our supply roster and continue to deliver on quality, value and service across a multitude of projects. Just wanted to take… →
Delighted with the prompt response to any amendments, flexibility with regards to moving deadlines and finished product.
My experience of working with Action Press has always been positive - from start to end of the printing process I have been kept fully briefed and we were delighted with the… →
VERY pleased with the print quality and help with the ordering team and process
Thank you so much to you and your team for your help and patience with the magazine.  It looks so good!
Very prompt and efficient service with good communication and helpfulness!
1st class service, no need to look anywhere else. Would always recommend Action Press. Thank you.
Always very helpful and patient when explaining technical details
I ordered one day and received the next. I know I said it was urgent but this was excellent service!
It was great to be kept up to date with emails, I knew where my order was the whole time.  This makes it easier to inform our clients.
It has been a pleasure to work with Action Press. It has made my job so much easier and I will certainly recommend you and use you again if I have the… →
I found everyone very helpful, and considering that the order was rather last minute on my part, everything arrived in time and to a high standard.
Always excellent. Friendly and helpful staff who always go that little bit further to be helpful. Can't recommend them highly enough.
I have not used Action Press often, but when I have, you provide an excellent service - especially offering advice and solutions. I would definitely use you more often.
Nice to be able to speak to someone on the phone to explain exactly what I wanted
I was very impressed by the speed in which I received the quote. My very tight deadline was met and the quality of the print job was excellent. Staff are very professional… →
Just a note to thank you all very much for dealing with our request so efficiently. Excellent, friendly and efficient service. Thank you very much.
We are proud of out team, and they're here to help.