What is commercial printing?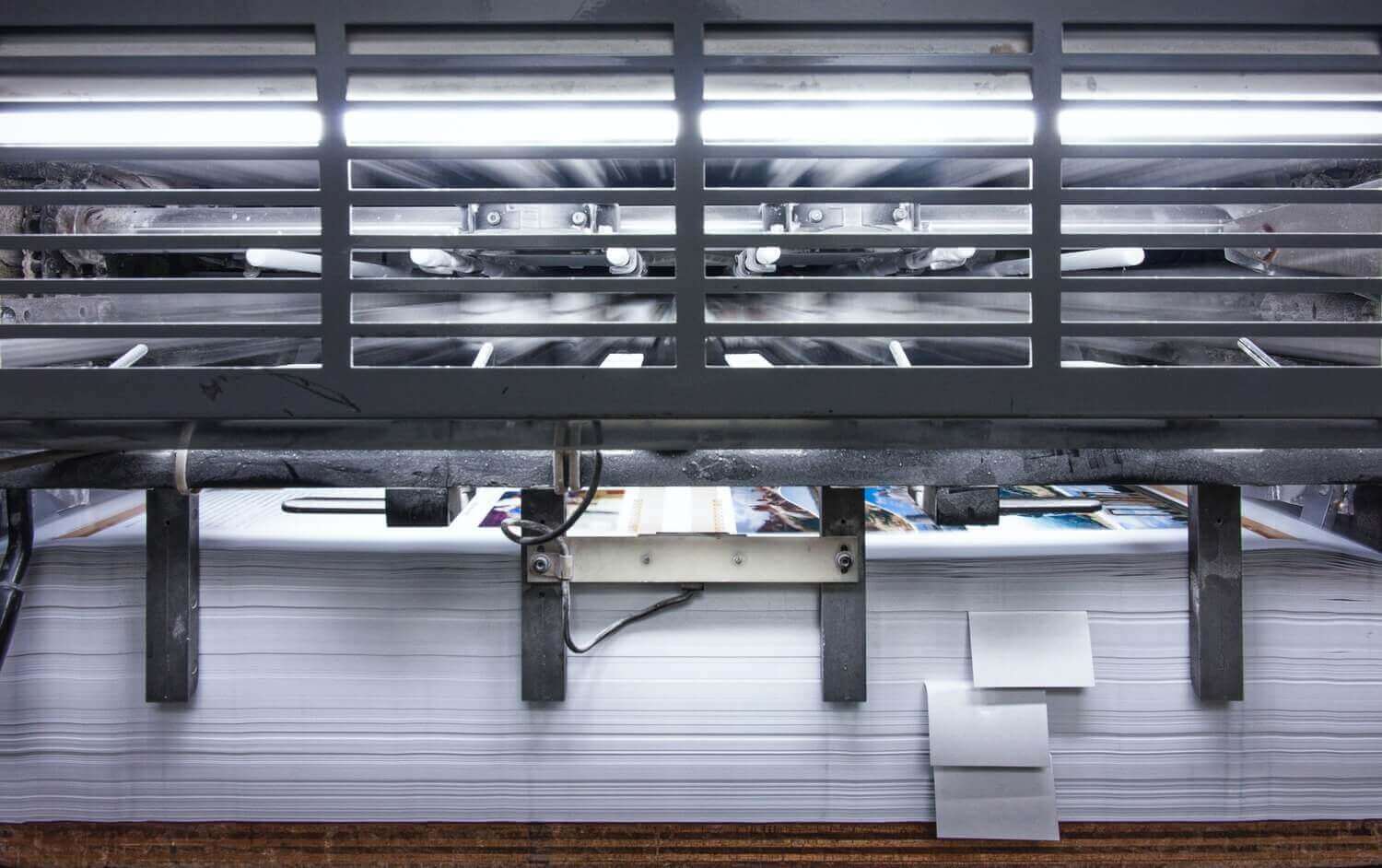 Printing is a broader term than you might think; for example, there's textile printing, artwork prints, and then there's the business we're in – commercial printing. All very different! In this article we'll be explaining what we mean by commercial printing, and what kinds of commercial printing you can expect to be undertaken by a professional commercial printing company.
What is commercial printing?
Commercial printing goes beyond the old printer in your home (that regularly refuses to work), and even the slightly larger and more capable printer that you may find in an office. Commercial printing handles paper products on a much larger scale for businesses, giving a professional finish using methods tried and trusted for years.
What does commercial printing cover?
For the most part, commercial printing refers to the following printed products:
Promotional materials
A huge part of commercial printing takes place on promotional projects that get the word out about an organisation such as a business, brand, charity or school. This could be general awareness, new offerings, seasonal collections, prospectuses, or events promotion, and could take forms such as:
Leaflets
Business cards
Catalogues
Brochures
Flyers
Postcards
Invitations
Internal communications
As opposed to materials that go outwards, commercial printing can be used for internal use too, such as posters to go around a workplace, staff handbooks to issue with contracts, and welcome packs for new starters. Health and safety printed materials could also come under this umbrella.
Branded products
If you want to keep reminding your customers, or potential customers, about your brand, printed paper products that they use every day, such as notebooks and ring binders, could get their eyes on your logo on a regular basis. That should lodge you in their memory!
Stationery
Commercial printing could also cover stationery products, from the fun, such as calendars, and stickers, to the practical and professional, such as envelopes and letterhead paper.
What services do commercial printers offer?
The methods used to print the products we've mentioned above can vary, and that's the beauty of commercial printing – there's a method available to achieve the exact finish that you're looking for. A good commercial printer can elevate your project to meet your expectations, and accurately represent your organisation to the people you want to appeal to.
These are the kinds of services you can expect a commercial printer to offer:
Litho printing
A traditional but still unbeatable printing technique for many projects, lithographic offset printing is done by transferring an image onto a printing plate, and then settling it onto the surface, such as paper or card, for example. Litho printing is particularly advantageous if you're doing a big print run of bulkier printed items, such as catalogues and brochures.
The way the ink is absorbed into the printing surface gives litho prints a super quality to the finished product, and special finishes such as embossing and foil blocking are also possible by using this technique.
Digital printing
Digital printing involves pulling the image of what is to be printed directly from a digital file and was somewhat revolutionary when we got our hands on it, as printing plates were no longer essential for short print runs of high-quality finishes.
For anyone on a budget and/or a fast turnaround time, digital printing offers fantastic value for money, as stunning prints are made possible in a short time frame. Printing straight from a digital file means there's no time-consuming set up, ideal for those last-minute ideas.
Die cut printing
Die cut printing is a commercial printing technique for businesses who want to be noticed over their competitors, and it's made possible by using lasers or thin steel blades (dies) that can cut bold and dynamic designs out from paper or card. The more colourful, the better!
Large format printing
Sometimes, bigger is definitely better, and if you want to make a statement with a design or promotion, then the dimensions need to increase. From shopfronts and cladding to signage and even flags, a reputable commercial printer will know what materials and methods to use for large format printing that achieves what your business needs.
Design assistance
When you're busy running your business or event, you may not be in the right frame of mind to get arty. Commercial printers can often help design your printed products in a way that accurately shows off your brand consistently, and appropriately for the product you want printed.
Choose Action Press as your commercial printers in Sussex
With the benefit of over 40 years' experience, access to the finest equipment and inks, and thorough knowledge of a wide range of printing techniques, we're proud to be the commercial printing company of choice for many businesses across Sussex and beyond. We pride ourselves on bespoke quotations, practical advice, and a commitment to fast printing with no compromise on quality. Get in touch with us to discuss your printing project, and we'll work with you to bring it to life.