Your Essential Guide to Printing Terminology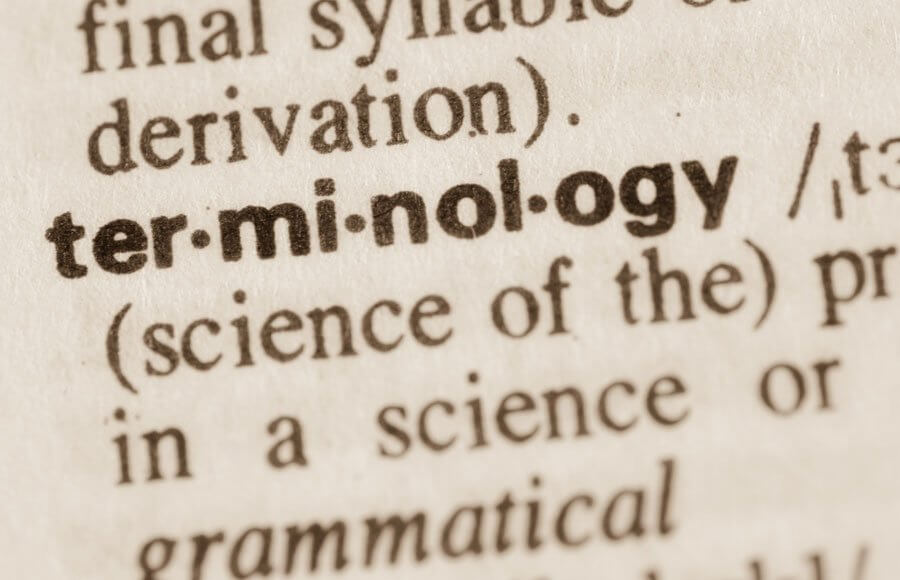 Do you ever get confused by printing terminology? You're not alone – the print industry has developed an extensive collection of words and phrases which can seem like a foreign language to anyone who's unfamiliar with the lingo.
So why does this matter? Well, if you're a graphic designer, marketing manager or anyone interested in printing a hardcover book, it's essential that you have at least a basic grasp of printing terminology because failure to clearly communicate print specs or fully understand print quotes can have some very stressful (and costly) consequences.
Below we've listed some key words, phrases and definitions that will help you look like an expert next time you're ordering print:
Printing Terminology Basics
Portrait/Landscape Orientation – If an item's height is greater than its width it's referred to as portrait, and vice versa for a landscape item. Establishing the orientation of an item helps to clarify details such whether to bind a book on the short edge or the long edge.
Size – The finished size of the item to be printed.
Extent – The number of 'printed sides' that the item has (see explanation below).
PP – Stands for 'Printed Pages' and represents the number of 'sides' to be printed not the number of leaves (e.g. an A3 sheet folding in half becomes an A4 4pp).
Stock – The paper, board or other material that is being printed onto.
Self-Cover – A term used to refer to a printed book that uses the same type and weight of stock throughout (e.g. "I'd like a quote for a 12pp self-cover brochure").
Plus Cover – A term used to refer to a printed book that utilises a different (usually heavier weight) stock for the cover compared to the inside pages (e.g. "I'd like a quote for a brochure, 8pp + 4pp cover").
6pp Cover – Standard book covers are 4pp but sometimes a fold-out section is required making a 6pp cover (or 8pp if two fold-out flaps are required).
Printing Methods and Machines
Litho – Short for lithographic printing, a commonly used traditional print method using oil-based inks and water. The litho print process is best suited to longer production runs due to its relatively long setup times and fast running speeds.
Digital – An alternative print process to litho, digital is a broad term used to describe several different print methods including laser printing, inkjet printing etc. Minimal setup time and slower running speeds mean that this process is best suited to one-off prints and shorter production runs.
B3/B2/B1 – Size references used to describe the maximum sheet size capacity of different printing machines (B3 is oversized A3 etc.).
Wide Format – A term used to describe digital printing machines (usually ink-jet) that can print to a width of 1 metre or more.
Web Print – A high-speed litho print process where a large roll of paper is fed through the press in one continuous stream, as opposed to sheetfed offset presses which feed one sheet at a time (also at high speed but not as fast as a web press).
Ink-jet Print – A short-run digital print process involving liquid inks that are sprayed onto the surface of a substrate.
Laser Print – A digital print process that uses static fields and high temperatures to fuse powdered toner onto the surface of a substrate.
Flexo Print – Short for flexography, a printing method that utilises a rubber plate with a raised image. Commonly used for producing self-adhesive labels on a roll.
Print Stock Terminology
Silk Coated – Paper to which a coating has been applied, giving it a smooth silk finish that litho printing inks adhere well to (see our blog on the difference between uncoated and coated paper).
Gloss Coated – Paper stock to which a coating has been applied, giving it a smooth gloss finish that litho printing inks adhere well to.
Uncoated – Paper stock with no coating applied, usually used for items that will be written on or laser printed (e.g. letterheads, forms etc.)
Bond – Multi-purpose, uncoated paper. The term originates from the paper traditionally used for documents such as government bonds.
Offset – Uncoated paper designed for litho offset printing.
Woodfree Paper (WFU) – This doesn't mean the paper has no wood content, but that the lignin has been removed from the wood fibres in order to achieve a brighter white paper. Woodfree uncoated paper is often not quite so stiff or as opaque as papers that contain lignin.
GSM – Stands for 'Grams per Square Metre'. A measure of paper weight.
Mic – An abbreviation for 'Microns' (1 micron = 1/1000th of a millimetre). A measure of paper thickness (not necessarily directly related to gsm).
Flat Size – The size of a sheet of paper prior to folding to finished size.
Grain Direction – Although it's not usually noticeable, all paper has a grain. The grain direction is the direction in which the wood pulp fibres are laid during the manufacturing process. A simple test of grain direction is to fold a sheet of paper in two directions – it will be more difficult to fold 'across the grain' than 'with the grain'.
A0 – Sheet size: 1189 x 841mm
A1 – Sheet size: 841 x 594mm
A2 – Sheet size: 594 x 420mm
A3 – Sheet size: 420 x 297mm
A4 – Sheet size: 297 x 210mm
A5 – Sheet size: 210 x 148mm
A6 – Sheet size: 148 x 105mm
A7 – Sheet size: 105 x 74mm
Printing Inks and Colours Terminology
CMYK – Also known as 'four colour process', CMYK stands for Cyan, Magenta, Yellow and Black. It's a globally recognised term that is used in all spheres of the print industry and across most printing methods.
RGB – Red green blue, as above but the opposite as it is light source instead of refection. RGB is needed for the monitor as light source, but we must convert to CMYK to print on paper
Pantone – An internationally recognised, standardised colour matching system.
Spot Colour – A term used to describe a Pantone colour (over against CMYK/four colour process).
Machine Seal – Clear varnish that is applied over the top of litho print to seal the ink and prevent scuffing. Although a machine seal is not always required it is often applied to CMYK print as standard these days.
UV Drying – A process that uses high-powered Ultra Violet lighting to dry ink quickly. Commonly used with web printing presses (see definition above) due to the speed they run at. Also, essential when printing onto plastics or other non-porous surfaces.
Flood Coat – A solid printed area right across a sheet.
Pantone Metallic – Litho spot colour inks containing finely ground metal which gives a metallic sheen to the print.
Print Binding Terminology
Saddle Stitch/Two Wire Stitch – A binding method that uses 2/4 wire staples in the spine to hold a book together. Suitable for thinner books (8pp – 96pp approx).
Loop Stitch – As saddle stitch but with an extended loop in the wire staple which means the book can be inserted into a ring binder.
Perfect Binding/PUR Binding – A glue-binding method that results in a square spine. Suitable for thicker books (40pp or more).
Wirobinding/Wire-o-binding – A mechanical binding method using pre-formed wire combs that are looped through punched holes in the binding edge. Particularly effective where 'lay-flat' properties are required.
Comb Binding – Similar to wirobinding but the comb is made from plastic instead of wire. Commonly used in the office environment for one-off binding tasks rather than for large-volume print production.
Case Binding – Often referred to as hardcover or hardback binding, this traditional binding method achieves a high-quality and durable end result. Suitable for books of approx 32 pages or more.
End Papers – The inside front and back covers of a case bound (hardback) book.
Print Finishes Terminology
Laminate – Thin plastic film that is applied to the surface of a printed item to achieve a desired texture/finish or increase its durability. Comes in matt or gloss as standard with several other less common options also available (see below).
Anti-scuff Laminate – A type of laminate that is resistant to abrasion and scratching. Especially suited to large areas of dark colour where scuffs and scratches would show prominently if a standard matt laminate were to be used.
Soft-touch Laminate – Another type of laminate that is used to give printed items a soft, matt, velvet-like surface texture. Ideally suited to items where a high-end, luxury, tactile finish is required.
Spot UV – A clear varnish that is used to highlight or draw attention to specific areas of a printed item. Gloss spot UV is particularly effective when applied to a matt laminated surface due to the contrasting finishes/textures. The 'UV' part of the name refers to the Ultra Violet light used to dry the varnish (see UV drying definition above).
Hot Foil Blocking – Also referred to as 'foiling', this process uses a metal die to apply metal foil onto the surface of a substrate using heat and high pressure.
Emboss – A specialist print finishing process that uses a male and female metal dies to stamp a raised design into the surface of a sheet of paper or board.
Blind Emboss – A subtle emboss effect achieved by embossing a design onto either a plain unprinted area or a solid block of colour, without corresponding with specific elements of the printed design.
Deboss – Similar process to embossing as described above but where a sunken design is stamped into the paper as opposed to a raised design.
Die Cut – A print finishing process for cutting shapes out of a sheet of paper or board.
Kiss Cut – As die cut above but where the cut only penetrates through the top layer of a sheet of self-adhesive label stock, leaving the base sheet intact.
Laser Cut – An innovative process that uses a laser beam to cut detailed shapes out of a sheet of paper/board. Used where designs are too intricate for die cutting.
Duplex – A process used for gluing two sheets of board together. Varying colours and types of board can be duplexed together to achieve different design effects.
Triplex – As duplexing above but where three layers of board are glued together.
Print Artwork Terminology
CMYK – Stands for the four process colours, Cyan, Magenta, Yellow and Black and are not suitable for printing from (see the 'Inks and Colours' section above). All artwork for print must either be output as CMYK or using spot Pantone colours – RGB colours are for on-screen viewing only.
Hi-Res – An abbreviation for 'High Resolution', used when referring to the quality of print-ready artwork required in order to achieve a satisfactory end result.
PPI – Stands for 'Pixels Per Inch' – a term that is often confused with DPI (Dots Per Inch) when referring to digital image resolution. 300dpi is usually regarded as the recommended resolution for print ready artwork.
PDF – Stands for 'Portable Document Format', a file format commonly used for supplying artwork for print.
Crop Marks/Trim Marks – Fine lines on the corners of a print ready PDF file, outside of the document area, that indicate where the finished item is to be trimmed.
Bleed – When design elements such as images, colour blocks etc. extend to the edge of a printed item, a bleed allowance is required. This is simply a continuation or extension of the design element beyond the edge of the finished document, usually by a minimum of 3mm.
Vector Graphics – Digital images constructed from lines and shapes in a two-or-three-dimensional space that can be scaled without any loss of quality.
Gradient/Vignette – An image or block of colour that fades away gradually.
Crease/Cutter Guide – Keylines within an artwork file that represent crease/cut lines and from which a cutting die is produced.
Spot UV Plate – A separate artwork layer/file defining the area(s) to which spot UV varnish is to be applied.
Creep – Incremental adjustments made to the spine margins throughout a saddle stitched book in order to avoid content on the fore-edge being trimmed off during the binding process as a result of the book sections bulking up in the spine.
Trapping – A minuscule overlapping of adjacent design elements in a print ready artwork file which aids colour registration on press and helps to avoid unsightly gaps in the print.
So that's our guide to printing terminology, we hope you'll find it helpful.
If you come across a print-related word or phrase that isn't shown here, please let us know and we'll happily add it to the list, together with a definition.
Call our friendly team of experts on 01444 236204 or drop us a line to take advantage of over 40 years of design and print experience.