6 of the Best Ways to Print on Plastic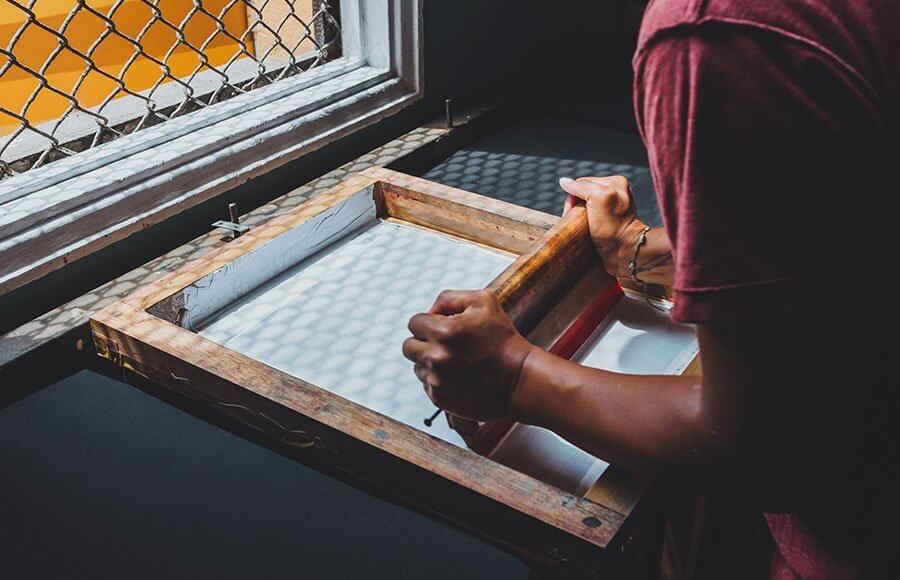 Plastic is an amazing material with many wonderful properties and varied uses but it can be really tricky to print on.
There are hundreds of different plastics in existence, each with its own composition and characteristics. Our experience with printing onto plastics is with flat sheet – signage, folders, ring binders, luggage tags but there are thousands of other useful items that plastic is suited to, not necessarily 'single use disposable' products but useful items that need to be lightweight, strong, durable, flexible or weather-proof.
With several different plastic printing methods out there it can be difficult to know which process is best suited to a particular application. Below, we explore six of the best ways to print on plastic:
Digital Ink Jet printing
Rapid and ground-breaking advancements in digital print technology have greatly broadened the scope of what can be achieved. Digital ink jet printing is one such development and enables you to print high quality images in full colour onto various plastics. Minimal set up is required, making this process ideally suited to one-off prints or short production runs. However, as with an ink jet office printer, inks are expensive so long production runs aren't cost-effective. Regular ink jet ink soaks into the paper but this special ink dries by evaporation, making it possible to print onto almost anything, from wide-format rolls of self-adhesive vinyl right through to large, rigid items such as doors!
Screen printing
The rise of digital print technology has reduced demand for traditional screen print but it is still a viable alternative for certain applications. Screen printing uses blocking stencils on a fine silk mesh through which ink is squeegeed in order to transfer the stencil design onto a substrate. The ink is then dried under high-powered UV light, achieving a durable print with bold, strong colours. Image quality is limited with screen printing but vector graphics reproduce well making this process perfect for printing onto most types of sheet material and fabrics.
Flexo printing
According to Wikipedia, "Flexography (often abbreviated to flexo) is a form of printing process which utilizes a flexible relief plate. It is essentially a modern version of letterpress which can be used for printing on almost any type of substrate, including plastic, metallic films, cellophane, and paper."
Flexo printing is a fast and cost effective process best suited to printing on thinner, flexible substrates such as plastic bags, vinyl labels on a roll, food packaging etc. Although flexo printing can achieve better print quality than screen printing, it is not capable of producing images in such high resolution as ink jet printing, litho UV printing or gravure printing.
UV Litho printing
On our home page there's a brief description of the litho and digital print processes. UV litho printing offers many of the benefits of standard litho print, being capable of achieving high definition images in a broad spectrum of colours, but utilises UV drying units which bake the ink onto the surface of flexible substrates. With the UV litho process, initial setup is time-consuming and costly but run-ons are quick, making it most cost-effective for longer production runs. Choose from "full colour" CMYK or Pantone spot colours with light-fast inks available if required.
Pad printing
Probably the simplest print process there is. The image is etched onto a silicone plate which is then flooded with ink and wiped clean, leaving ink in the etched area only. Once the surface of the ink becomes tacky, causing it to cling to the printing pad and sealing that side of the ink film, the pad is pressed onto the product leaving the image behind. Pad printing is a great way of printing a 2-D image directly onto 3-D objects such as promotional golf balls, rulers and bottles. Single colour pad printing print is most economical but multiple colours are also possible.
Laser printing
Yes, even a standard office laser printer can print onto certain plastics! Be very careful to ensure that the material is laser compatible though because the fuser unit inside a laser printer gets very hot and plastic sheets melting inside your printer can be disastrous!
As you can see, there are many different ways to print on plastic. However, usually only one of these print methods will be best suited to the task in hand so it's important that you make the right choice.
For expert advice on any print-related questions you may have, please get in touch with the friendly team here at Action Press – we love a good chat and would be more than happy to share our many years of print industry experience. We offer a wide range of printing services including digital and litho printing and we have years of experience in brochure and magazine printing among many other things.