What different types of ring binders can you get?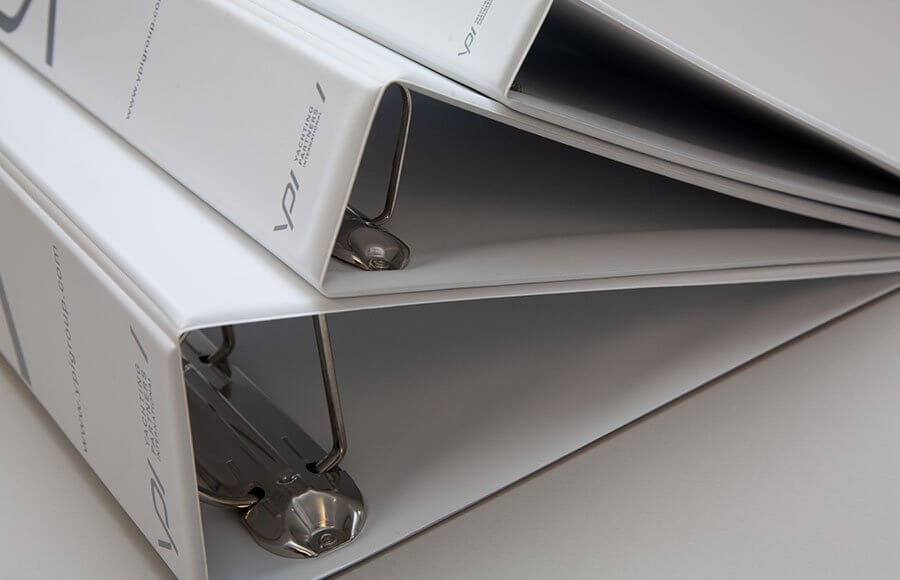 Ring binders are a great way to present your information but the different types, styles and materials available are almost endless! Let's explore some of the most popular options…
Mechanisms
Firstly, we should mention the most important part of a ring binder – the mechanism (i.e. the metal bit with the rings). Two primary styles are used, the most common being a round ring or O-ring which is applied to the spine and D-ring which is affixed to the inside back cover. Standard American binder mechanisms feature three rings whilst their UK/European counterparts have two or four.
Sizes and Shapes
Binder capacities vary from 16mm to 65mm with round ring mechanisms best suited to smaller binders and D-ring mechanisms used for larger binders, the D-shaped rings making for easier opening and referencing of thick documents.
Bespoke ring binders can be made in almost any size and shape, particularly when constructed from modern materials such as polypropylene plastic (see below for more on this).
Materials
PVC Over Board binders are made from sturdy greyboard covered with PVC with the edges and corners welded together.
Pros: Tough, durable and moisture-resistant finish. Colour printed inserts can be encapsulated onto binder covers/spines plus a wide range of Pantone colours can be screen printed directly onto the PVC.
Cons: PVC colour options are limited and detailed images aren't usually achievable with the screen print process.
Paper Over Board is a traditional method involving litho printed silk paper with a laminate applied which is then mounted onto robust 2-3mm thick greyboard. The wrapped board is then creased so that it folds easily prior to the binder mechanism being fitted.
Pros: Detailed imagery is no problem and bespoke options include coloured rivet caps and powder coated mechanisms. Automated production process makes this process economical for shorter production runs.
Cons: Not as durable or moisture resistant as other materials/finishes.
Polypropylene ring binders are constructed from a single sheet of 800 micron polypropylene plastic which is then printed and die cut to the required shape and size before being creased to form the spine onto which the mechanism is riveted.
Pros: Flexible, cost-effective, robust, water/chemical resistant.
Cons: Translucent inks will sometimes require an additional white undercoat print to avoid being affected by dark coloured polypropylene material.
Stitched Leather and PU ring binders are constructed using traditional skills to create distinctive presentation binders with high perceived value.
Pros: Can be embossed, foil blocked or screen printed. Optional features include metal corners, strap/press stud closure, inner pockets and suede-effect lining.
Cons: These high-end binders come at a premium price!
If you have further ring binder related questions simply call today on 01444 236204 or contact us for friendly, expert advice and guidance.